Read Time:
2 Minute, 5 Second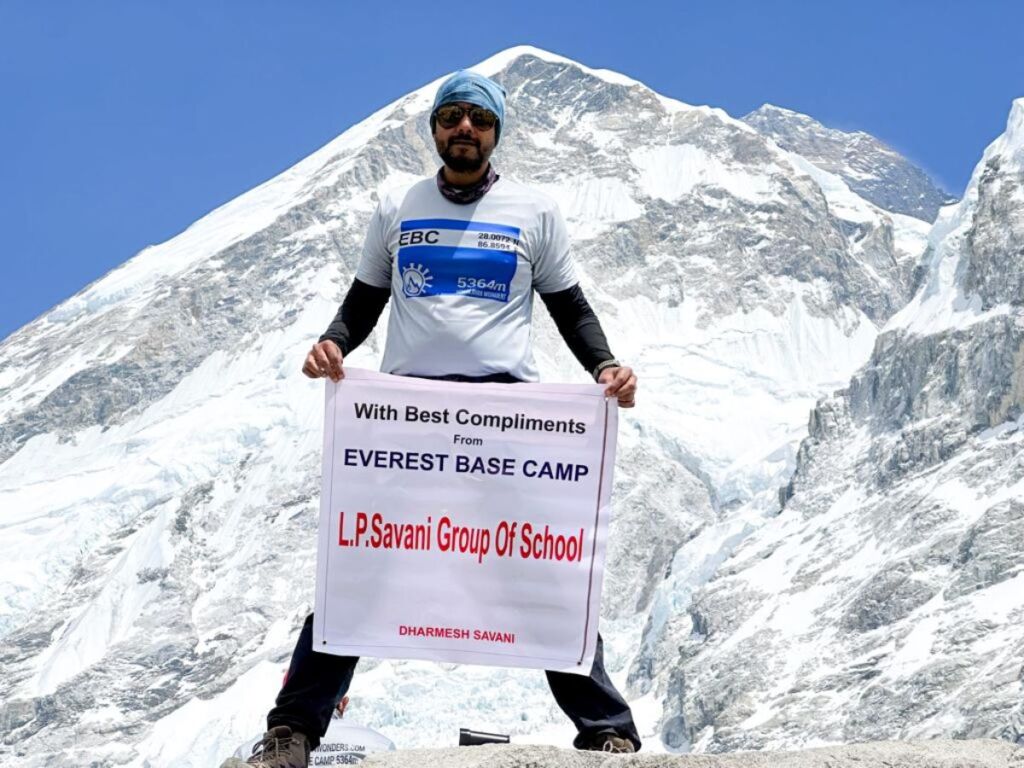 A total of eight trekkers from Surat, Ahmedabad, and Pune joined the trip
Surat (Gujarat) [India], April 20: Dharmendra Savani, Vice Chairman of the reputable LP Savani educational organisation, and five others from the diamond city of Surat, Ahmedabad, and Pune made history by becoming the fastest walkers to reach Mount Everest base camp in nine days. With this, Savani and his company of trekkers had accomplished the feat in such a short period of time, reaching a height of 5,364 metres above sea level—84 kilometres from Lukla.
Dharmendra Savani and his group, which included Jayeshbhai Patel, Rajeshbhai Mordia, Shailesh Savani, Shreyansh Shah, Smital Shah, and Janhvi Gohil, began their quest for the exceedingly arduous and challenging Everest base camp trek from Nepal's Lukla. There were eight trekkers, which included six from Surat and one each from Ahmedabad and Pune.
Testing Conditions
Savani and his group travelled from Kathmandu to Ramechap by road.  They had to fly from here to Lukla, which was only about fifteen minutes away.  However, the aircraft was delayed for many hours due to inclement weather.  They were finally able to fly after hours of waiting and arrived in Lukla in fifteen minutes.  Their trek to the base camp began from here. Despite adverse weather conditions such as cold temperatures of -20 degrees and only 40% oxygen at high elevations, Savani completed the base camp journey in nine days by trekking 10 to 12 hours each day over rocky and snowy terrains. The party finished the walk in nine days, although most people take 15 to 20 days.
"I was hell bent on completing the Everest base camp trek when I heard about the adventurous journey," Dharmendrabhai Savani, Vice Chairman of LP Savani, stated. "We planned to run the distance, but even walking in such a difficult climb of the world was nerve-racking." "Not only did we reach Everest Base Camp, but we also trekked 5,550 metres to Kalapatthar." Dharmendra Savani.   This journey was and will continue to be an interesting and remarkable life experience for myself and my buddies."
High-intensity training
Savani stated that he has been conducting regular high-intensity training in gyms and climbing and descending 200 floors every day for more than six months. It prepared his body and mind for the incredible performance. During the walk, diet was crucial. To successfully complete the adventurous expedition, Savani and his buddies devised a stringent food routine.
The post Dharmendra Savani, Vice Chairman of LP Savani, achieves a remarkable feat by finishing the Everest Base Camp trek in a record time of nine days appeared first on Republic News Today.