Read Time:
2 Minute, 3 Second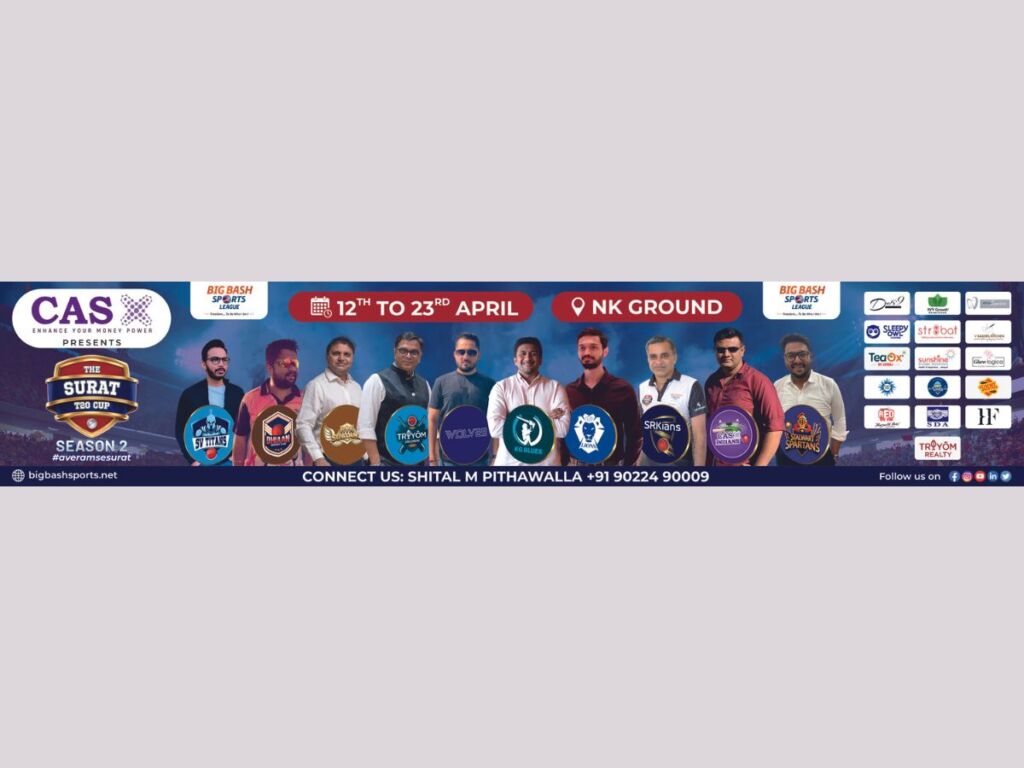 Surat (Gujarat) [India], April 12:  Mehul A Pithawalla and Shital M Pithawalla have set up Big Bash Sports League Company to launch a new sports culture in Surat. They are providing a platform for entrepreneurs who are 30+ years of age to drive corporate culture in the sports city. Then last year's season-1 was a mega hit event which was won by businessman Jayanti Bhai Narola, owner of SRK Diamond. The event is hosted by Mehul A Pithawalla and Shital M Pithawalla.
After the success of Surat T-20 Cup Cricket Tournament Season-1, Big Bash Sports League Company founder Shital and Mehul Pithawallla are now back with a bang – and organizing Surat T-20 Cup Cricket Tournament Season-2. They have brought together 7 Diamond teams and 3 Builder's teams which will be played at NK ground in Surat from 12th April to 23rd April. There will be a thrilling cricket battle between 10 teams, held by Big Bash Sports League Company.
The teams were auctioned at Avadh Uthopia on 21st March by Big Bash Sports League Company. Well-known businessmen of the city bought the ownership rights of the team and got ownership of each team of 15-15 players. A total of 10 teams and 150 talented players are participating in this tournament, of 24 matches. Join us at the Mega Trophy launch on 12th of April at NK Ground at 5:00 pm. Well-known and prominent businessmen of the city will be honouring us with their gracious presence at the event.
Players are getting geared up to show their best and give their spectacular performance for team and viewers as well.
Names of honor and teams -:
Jayantibhai Narola – SRKIANS
Sunny Gajera – L.D.LIONS
Siddhant Shah – K G BLUE
Nagji Sakaria – HVK SULTAN
Suresh Gondalia – TRIYOM CHALLENGERS
Rishik Patel – CASX INDIAN
Mohit Kamleshbhai Shah – SVK TITANS
Ravi Desai – DHIYAAN CRICKET TEAM
Tarun Shah – STALWART SPARTANS
Jairaj Singh Nilesh Singh Attodaria – WOLVES
Brands Associate with Surat T20 season 2 are:
Title Sponsor – Casx
Refreshment Partner – Deck9
Dental Partner – Dental Signature
Startup Partner- IVY Growth
Beverages Partner – Sleepy Owl
Technology Partner – Str8bat
Supporting Partner – SDA
Magazine Partner – HF
Gifting Partner – Glowlogica
Cooling Partner – Vanco
Medical Partner- Sunshine Global Hospitals
Media Partner – Imagine Surat
Supporting Partner- Triyom Palace
Radio Partner- Red FM
Teaox – Chai Partner
The post The champion team will get a cash prize of 4 lakh rupees and a diamond-studded trophy appeared first on Republic News Today.